Heltons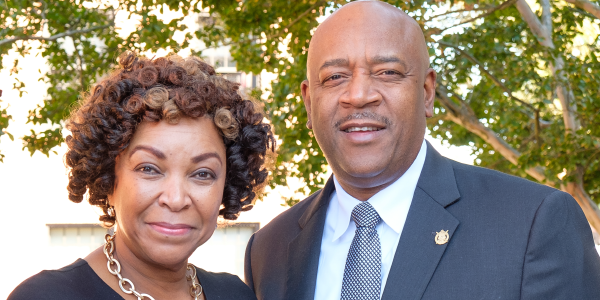 North Carolina Central University (NCCU) has received its first gift through a new investment trust that allows donors to gain tax benefits and income when donating to the university.
The $220,000 gift from alumni Rae and Audwin Helton is part of a charitable remainder unitrust that was created in October 2017 through an agreement between the NCCU Foundation and N.C. Gift Planning LLC.
The Heltons, who own and operate a successful mapping business in Louisville, Ky., both graduated from NCCU in the Class of 1981 and had been looking for the best way to give back to their alma mater, Rae Helton said.
"We decided to invest $200,000 in the charitable remainder trust because it seemed to be a good fit with what we wanted to do on behalf of the university, and it will provide continued support over time," she said.
"We are very appreciative of the generosity of the Heltons and their thoughtful decision to invest in this trust to the benefit of their alma mater," said Akinleye. "Through our new partnership with N.C. Gift Planning LLC, the university is now able to provide donors, like the Heltons, with another vehicle for giving back to the institution.
N.C. Gift Planning was created to allow NCCU and other medium-sized universities within the University of North Carolina system to work together to meet the high financial-reserve minimums necessary for this type of financial vehicle.
The couple first met as freshmen at NCCU and credit their time at the university - he majoring in geography, she studying library science - for the knowledge and skills that led to their successful business startup, Spatial Data Integration Inc., in 1994.
Audwin Helton, a member of the College of Arts and Sciences Advisory Board, said his support for NCCU is inspired by the legacy of university founder Dr. James Shepard, who provided not only on academic education but an atmosphere for building positive character traits, such as leadership, perseverance and compassion.
Rae Helton also hopes others will follow their Eagle example.
"I'd also like to issue a challenge to other alumni to think of ways they can give back, whether of time or a financial gift - and to consider this type of trust when they are doing their estate planning," she said.